Posted:
March 22nd, 2009 |
Author:
Katie
|
Filed under:
Simple Solutions
|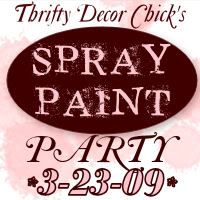 I was so excited when I read about Sarah, The Thrifty Decor Chick's Spray Painting Party! I would have bet thousands of dollars that I would be displaying something that was done by my two best friends, who are usually black spray paint and spray polyurathane. But for this project - it was my husband who headed to Home Depot to pick out a color.
Let's back up! I'm getting too excited here. So my brother-in-law moved into town recently and he had an extra king size, oak finish, four poster bed. (Details to remember: oak and four poster).
Now here is my before — and I'm really ashamed it is not better, and it is actually the back of the bed.
My husband convinced me that painting it with a brush would take way too long and I should just let him do it all. Seriously, how could I resist?! Here is what he bought:
It is called "Fossil" and it is similar to 'Favorite Tan' by Sherwin Williams. It is a tan color with some gray and green undertones. Let me just say, besides black, white and wood staining — this is the first COLOR that we have used in the house and it is just so fitting because it is also the first bed (with headboard and footboard) that we have had since we were both kids!
And here is the beauty, 4 cans($10.00 worth) of spray paint later!
WARNING: The painting was complete and now comes the part many of you might not like.
A couple points…
First - I do not think we are a 4 poster bed kind of couple.
Second - My husband was willing to try but I stuck to my guns.
And so finally -  the saw came out…
(Okay you can open your eyes now).
Our room really would have gotten sucked up if we could have kept them on so after we cut off just the foot boards, it was time to find something to balance the grandness of the headboard.
So we took these:
and turned it into this:
The only other change we had to make was replace the long ottoman for Lucy with a floral ottoman on wheels that didn't block the walk way into the room. This way it can simply be rolled to the side in the morning.
We just are in LOVE with the new bed. We took pictures right away and sent them to my brother-in-law and he called back to let us know he would like his bed back!
Thanks again for hosting your Spray Painting Party Sarah! It has been a lot of fun and check out other projects at The Thrifty Decor Chick.
♥ Katie
---