Posted:
November 15th, 2009 |
Author:
Katie
|
Filed under:
Simple Solutions
|
So I was recently introduced to the Bona Floor Cleaning System by a mentor from my MOPS group…and THE DAY I got it…I cleaned joyusly. Yes, I felt like a Cinderella without the wicked step mom and sisters forcing me to work. Definitely has been added to my favorite things list!
Let me tell you how it works in my 'sound' language.
You velcro the duster on…"hwhippp"- I had to say that outloud.
You dust around….smooth, smooth - not really a sound but that is how it feels…
You velco the microfiber cloth on…"hewhipppp"
You spray the cleaning solution on the flooring and I like the shooter setting rather than the sprayer setting…"zip, zip, zip"
You sweep up and around the liquid…."whooosss"
Easy.as.pie. and I'm telling you it is so fun to manuver - you feel lighter. I know that sounds weird but you just do. And it smells great and you are done. done.
I dreaded getting out my other duster product. (I'm not going to bash anything) and then just throwing away the cloths. With the Bona the cloths go straight into the washer. Love that too.
I'm hooked! I found mine at our local Ace Hardware but here is a link to one on Amazon if you are interested! Happy Cleaning!
♥ Katie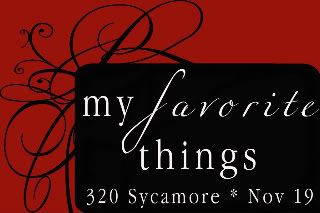 I know this is just one of my many "Favorite Things" but I thought it would be fun to post it at Melissa's Favorite Things Party! She is also one of the 10 bloggers that inspired my "Favorite Gifts Newsletter" composed of favorite things that they have shared throughout the year. If you would like to see it just click on the "Newsletter" button on the top right side of my site and I'll send it your way! Thanks again Melissa for having such a fun party!
---